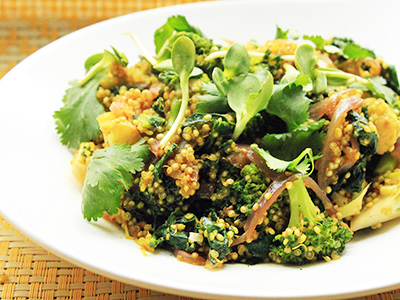 Ingredients:
3 tablespoons olive oil, divided
3 cups broccoli florets, stems trimmed
3 cups cauliflower florets, stems trimmed
Kosher salt and freshly ground black pepper
1 red onion, thinly sliced
1 tablespoon curry powder
½ tablespoon ground cumin
1 cup quinoa, pre-rinsed or washed
2 cups homemade vegetable stock
2 1/2 cups lacinato or curly kale, leaves removed from the stalks and cut into 1-inch ribbons
1 tablespoon fresh juice from 1 lime
½ cup roughly chopped fresh cilantro
½ cup microgreens, such as sunflower (optional)
Instructions:
Heat the 1 ½ tablespoons oil in a large pot over medium-high heat until shimmering. Add the broccoli and cauliflower and a pinch of salt and pepper. Cook, stirring until lightly browned and just tender, 4 to 5 minutes.. Remove from the pot and set aside.

Add the remaining oil to the same pot, and return to medium-high heat until shimmering. Add the onion and a pinch of salt and cook, stirring, until softened, about 4 minutes. Add the curry powder and cumin, stirring until fragrant, about 30 seconds. Add the quinoa and toast until lightly fragrant, about 1 minute.

Add the broth, and adjust the heat to maintain an active boil for exactly 9 minutes. Stir in the kale until wilted and add the vegetables until they are finished cooking, about 2 minutes more. Stir in lime juice and season to taste with salt and pepper. Top with the cilantro and greens (if using) and serve.
http://retovivri.com/wp-content/uploads/2015/10/BLOG-202.jpg
300
400
Reto VIVRI™
http://retovivri.com/wp-content/uploads/2014/01/LOGO-01-e1411838950499.png
Reto VIVRI™
2015-10-27 18:06:36
2015-10-27 18:06:36
Vegan quinoa, broccoli, and kale curry