Tuscan soup (63 calories per serving)
INGREDIENTS:
1 1/4 cup eggplant, peeled and cubed
1 cup water
1 can whole tomatoes, no salt added, undrained and chopped (14 1/2-ounce)
1 cup fresh mushrooms, sliced
1 clove garlic, minced
1 small summer (yellow) squash, coarsely chopped
1/2 tsp Italian seasoning, dried
1/4 tsp salt
1/8 tsp pepper
12 oz can chicken broth, reduced sodium
INSTRUCTIONS:
Combine the first 10 ingredients in a large saucepan, stirring well. Bring to a boil; cover and simmer 25 minutes or until vegetables are tender.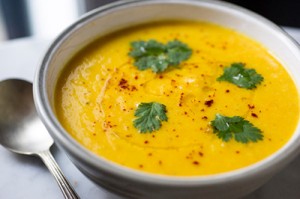 Spiced carrot cauliflower soup (70 calories per serving)
INGREDIENTS:
1 tablespoon

olive oil

1 small

onion, chopped

5 cups

warm water

2 tablespoons

vegetable bouillon

1 head

cauliflower, chopped (about 4 cups)

3 cups

peeled and chopped carrots (about 8 medium carrots)

1 1/2 teaspoons

curry powder

1 teaspoon

ground cinnamon

1 teaspoon

garam masala

1 teaspoon

salt
INSTRUCTIONS:
Heat the oil in a large saucepan over medium heat and cook the onions for 3 minutes, or until soft.
Heat the vegetable bouillon and the water.
Add the remaining ingredients to the pot and stir to combine.
Bring to a boil, cover, and reduce heat to simmer for 15-20 minutes, or until the vegetables are fork tender.
Using an immersion blender or standing blender, puree all of the ingredients until smooth.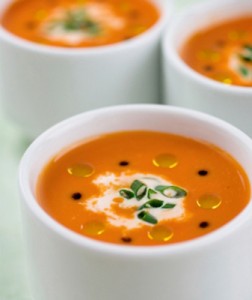 Red pepper bisque (60 calories per serving)
INGREDIENTS:
1 cup yellow onions
2 tablespoons chopped garlic
24-oz vegetable stock
3 cups red bell peppers
1.4 cup chopped basil
2 tablespoons fresh thyme
1 teaspoon sea salt
1/2 teaspoon black pepper
INSTRUCTIONS:
In a pot, saute sliced onions and chopped garlic until soft. Add vegetable stock and roasted bell peppers. Bring to a boil, then reduce to a simmer. Season soup with salt and pepper. Fill a blender half full, and blend until smooth. Repeat blending until all soup is blended. Reheat soup and serve hot.
Minestrone soup (190 calories per serving)
INGREDIENTS:
1 (15 oz) can white beans, drained, rinsed
32 oz vegetable broth for vegetarians
2 tsp olive oil
1/2 cup chopped onion
1 cup diced carrots
1/2 cup diced celery
2 garlic cloves, minced
1 (28 oz) can petite diced tomatoes
1 fresh rosemary sprig
2 bay leaves
2 tbsp chopped fresh basil
1/4 cup chopped fresh Italian parsley
1/2 tsp kosher salt and fresh black pepper
1 medium 8 oz zucchini, diced
2 cups chopped spinach
2 cups cooked small wild pasta such as ditalini or elbows
INSTRUCTIONS:
Puree beans with 1 cup of the broth in a blender. Heat oil in a large pot over medium-high heat. Add the carrots, celery, onion, garlic and saute until tender, about 15 minutes.
Add the remaining broth, tomatoes, pureed beans, salt and pepper. Add the rosemary, basil and parsley, cover and cook on low 40 minutes. Add the zucchini and spinach, cover and simmer until the zucchini is tender, about 8 to 10 minutes.
Remove the bay leaves and rosemary sprig and season to taste with salt and black pepper. Ladle 1-1/4 cups soup into 8 bowls with 1/4 cup pasta in each.
Lentil soup (373 calories per serving)
INGREDIENTS:
2 tablespoons olive oil
1 cup finely chopped onion
1/2 cup finely chopped carrot
1/2 cup finely chopped celery
2 teaspoons kosher salt
1 pound lentils, picked and rinsed
1 cup peeled and chopped tomatoes
2 quarts chicken or vegetable broth
1/2 teaspoon freshly ground coriander
1/2 teaspoon freshly ground toasted cumin
1/2 teaspoon freshly ground grains of paradise
INSTRUCTIONS:
Place the olive oil into a large 6-quart Dutch oven and set over medium heat. Once hot, add the onion, carrot, celery and salt and sweat until the onions are translucent, approximately 6 to 7 minutes. Add the lentils, tomatoes, broth, coriander, cumin and grains of paradise and stir to combine. Increase the heat to high and bring just to a boil. Reduce the heat to low, cover and cook at a low simmer until the lentils are tender, approximately 35 to 40 minutes. Using a stick blender, puree to your preferred consistency. Serve immediately.
Chunky beef stew (240 calories per serving)
INGREDIENTS:
Nonstick cooking spray
3/4 pound boneless beef sirloin steak, cut into 1-inch cubes
1 package (9 ounces) frozen cut green beans (2 cups)
4 carrots, peeled and cut into 1-inch pieces
1 onion, cut into thin wedges
14 ounces) beef broth
1 tablespoon Worcestershire sauce
1 1/2 teaspoons dried Italian seasoning
1/4 teaspoon black pepper
3 cans (8 ounces each) no-salt-added tomato sauce
INSTRUCTIONS:
Over medium-high heat, lightly coat a 4-quart pot with cooking spray; add beef. Cook 4 to 5 minutes, stirring frequently. Remove beef from pot using a slotted spoon and set aside.
Add green beans, carrots, onion, broth, Worcestershire sauce, Italian seasoning, and pepper to the pot. Bring to a boil; reduce heat and simmer, covered, about 15 minutes, or until vegetables are tender.
Add tomato sauce to pot. Return to a boil; reduce heat and simmer, covered, for 10 minutes. Add beef; heat thoroughly and serve.
Pepper soup (141 calories per serving)
INGREDIENTS:
1 pound of lean ground beef
2. 14.5 oz. cans of diced tomatoes seasoned with basil, garlic and oregano
10.5 of chicken broth
½ large white onion, chopped
3 green bell peppers, chopped
2 (10 3/4 oz.) cans of condensed tomato soup
1 ½ cups of cooked integral rice
INSTRUCTIONS:
Combine everything except the rice in a large pot, and simmer for 4 to 6 hours. Add a little rice to the bottom of a soup bowl or mug, then add a cup of the soup over it.
Spicy roasted parsnip soup (233 caloriers per serving)
INGREDIENTS:
2 tbsp olive oil
1 tsp coriander seeds
1 tsp cumin seed, plus extra to garnish
½ tsp ground turmeric
½ tsp mustard seeds
1 large onion, cut into 8 chunks
2 garlic cloves
675g parsnips, diced
2 plum tomatoes, quartered
1.2l vegetable stock
1 tbsp lemon juice
INSTRUCTIONS:
Heat oven to 220C/fan 200C/gas 7. In a bowl, mix together the oil and spices. Add the vegetables and mix well. Spread over a heavy baking sheet, then roast for 30 mins until tender.
Spoon into a food processor or liquidiser with half the stock and process until smooth. Pour into a pan with the remaining stock, season, then heat until barely simmering. Remove from the heat and stir in the lemon juice. Garnish with cumin seeds.
https://retovivri.com/wp-content/uploads/2014/12/soup1.jpg
338
400
Reto VIVRI™
http://retovivri.com/wp-content/uploads/2014/01/LOGO-01-e1411838950499.png
Reto VIVRI™
2014-12-19 17:49:13
2015-12-16 13:35:55
Healthy soup recipes for fall and winter