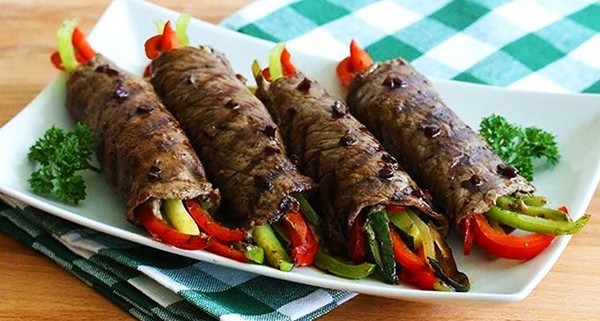 Ingredients (4 servings):
1 ½ – 2 lb. skirt steak, sliced into thin strips
1 carrot, matchstick cut
1 bell pepper, matchstick cut
½ zucchini, matchstick cut
5 green onions, matchstick cut
2 cloves of garlic, minced
½ tsp. dried oregano
½ tsp. dried basil
Olive oil extra-virgen
Sea salt and freshly ground black pepper
Balsamic:
¼ cup balsamic vinegar
¼ cup olive oil
2 teaspoons stevia
½ teaspoon dijon
Salt and pepper
Instructions:
Prepare the balsamic.
Season the steak slices with sea salt and freshly ground pepper to taste and set aside.
In a skillet, add some cooking fat and cook the garlic for 1 or 2 minutes; then add all the remaining vegetables and cook until soft but still a little crunchy, about 3 to 4 minutes.\
Season with oregano, basil, sea salt and pepper, and transfer to a bowl.
Arrange a small pile of vegetables in the center of each slice of beef. Tightly roll the meat around the filling, and secure with a toothpick.
Return the beef rolls to the skillet, and cook over a medium-high heat on all sides until the meat is cooked through.
Remove the toothpicks, spoon some of the balsamic sauce over the rolls, and serve.
https://retovivri.com/wp-content/uploads/2015/10/BLOG-197.jpg
339
600
Reto VIVRI™
http://retovivri.com/wp-content/uploads/2014/01/LOGO-01-e1411838950499.png
Reto VIVRI™
2015-10-06 16:13:38
2015-10-06 16:13:38
Balsamic steak rolls